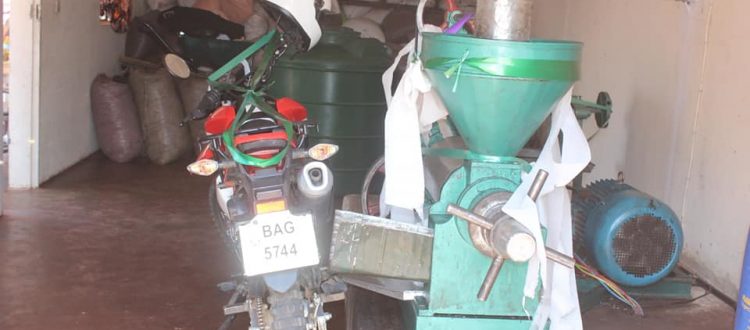 MONZE DISTRICT WOMEN DEVELOPMENT ASSOCIATION LAUNCHES OIL EXPELLER AND A MOTORBIKE.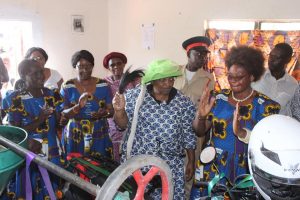 The Monze District Women Development Association (MDWDA) has today celebrated the commissioning of an Oil Expeller Machine AND XR190 CT Motorbike to support women empowerment programmes for the club.
MDWDA was formed in 1992 and is a network of 33 area associations comprising 600 women groups and six youth groups with a total membership of 1,998.
It is among the part of the 98 member clubs supported by the Non-Governmental Organisations Coordinating Council (NGOCC) countrywide.
In July 2016, Monze MDWDA applied for financial assistance from the United States African Development Foundation (USADF) for a cooking oil processing project.
The project was approved with a total amount of K938, 090.00 to improve the associations prospects for sustained expansion as indicates by the development of a comprehensive five year business plan that USADF deems suitable for funding by a donor or other financial institution.
Speaking at the handover of the facility in Monze today, the NGOCC executive director Engwase Mwale said reaffirmed the organisations commitment to improving the welfare of women countrywide.
Mrs Mwale said NGOCC had no challenges in recommending that the MDWDA be granted the financing because it had a firm foundation to excel in promoting economic activity among women in the rural areas.
"We will now link MDWDA to other sister organisations producing sunflower so that the machinery can begin to generate income for the association," stated Mrs Mwale.
She said NGOCC will continue to facilitate empowerment programmes for MDWDA and the 97 district associations dotted countrywide for women to capacitate themselves and contribute effectively to poverty alleviation.
NGOCC publicity secretary Beatrice Mulevu encouraged the women of Monze to join and participate actively in the work of clubs such as the MDWDA.
Mrs Mulevu, who is also an NGOCC board member, urges the women of MDWDA to also rope into the association their community compatriots into the work of the association.
Monze Central Member of Parliament, the hon. Jack Mwiimbu commended NGOCC for the good work it has done in promoting the activities of MDWDA.
Mr Mwiimbu, who was present at the launch of the expeller, appealed to NGOCC to lobby government for other support such as farming equipment and land to be extended to MDWDA.
"And please NGOCC; continue with the good work towards our women here," he sates.
Meanwhile, her royal highness Chieftainess Choongo, who was guest of honour said she was elated with the development because empowering women and youths helped to transform their reproductive and social lives.
"By empowering women through education, skills training, improving healthcare or providing loans and grants to set up small businesses like the one we are witnessing today; we can improve childrens health and future opportunities," said Chieftainess Choongo.
She urged the MDWDA executive it guard the new equipment jealously by putting it to good use.
MDWDA Executive Director Regina Cheelo promised to guard the equipment jealously and that it will be out good use.