NGOCC and Gender Division Confer
---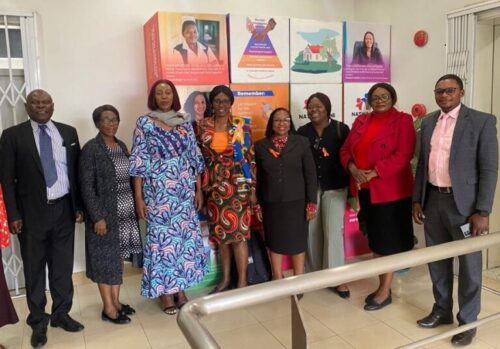 A delegation from the Non Governmental Gender Organisations' Coordinating Council (NGOCC) paid a courtesy visit on the Permanent Secretary at the Gender Division to discuss a wide ranging of issues affecting women and girls in Zambia.
The delegation included the NGOCC Board Chairperson, Ms Grace Manyonga- Sinkamba, NGOCC Executive Director Ms Anne Mbewe-Anamela, the president of YWCA, Ms Patricia N. Mubanga and YWCA Executive Director Ms. Mirriam Mwiinga.
Some of the issues discussed included the need to heighten the campaign against Gender Based Violence (GBV) and strengthened partnership with the Division.
Further, the two organisations discussed issues centered on the low numbers of women in leadership positions and how it can be improved, as well as the need for coordinated efforts in the various women empowerment schemes offered by different arms of government.
It is the desire for the women's movement to build on the gains made over the years and to keep engaging Government on issues that negatively impact women and perpetrates discrimination and inequality.
---
Trending Now
You may also like