Adhere to Tenets of Good Governance- SINKAMBA
---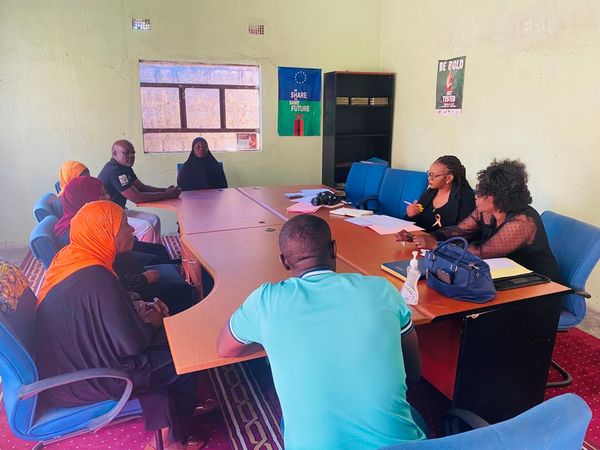 NGOCC Board Chairperson, Ms. Grace Sinkamba has urged the organisation's affiliates to adhere to tenets of good corporate governance and ensure that they remain complaint with statutory bodies for them to operate legally.
Ms Manyonga who is currently leading the board's visitation of members said civil society organisations can only provide checks and balances if they are compliant.
NGOCC, made up of 111 members in 68 Districts across the ten Provinces of Zambia, is a network organisation of gender focused organisations.
The Board that was elected during the last organisational General Assembly in 2022, is currently undertaking visitations to the member organisations. This is for the purpose of appreciating the membership operations including their challenges and other areas of improvement for enhanced solidarity for women's empowerment.
Speaking during the visit of the Matero based Lusaka Muslim Women Organisation (LUMWO), the Board Chairperson also encouraged the organisation to uphold tenets of good governance because they needed to lead by example.
"There is no way we can be challenging political parties and government at large to be transparent and accountable when yourselves, ourselves, were practicing the opposite. We need to practice what we ask of our leaders to do. Ensure you hold regular elections, let your books be in order and prepare reports in time" she remarked.
Ms Sinkamba further urged the organization to prioritize networking and take advantage of the various empowerment opportunities that government and other stakeholders were providing.
"You have all what it takes to do alot more than you are currently doing but you should not just confine yourselves to your space here in Matero. Take time to go to various government offices or Ministries including the many organisations that offer support. Infact, there are a lot of Muslim funds that you can take advantage of. Get out there and apply for as much funding as possible to add to the NGOCC Basket Fund."
And speaking during the same visit, NGOCC Accountant, Memory Banda Simwaba, reminded the organisation to ensure their various manuals were updated to enhance their chances of attracting more donor support. She further expressed delight at their compliance levels thus far.
"I remember NGOCC trained you in financial management and drafted a Financial Manual. You need to use those skills to update your financial manual and other manuals to ensure you are not left behind. Proper documents. It is good to see you are up to date with your annual returns and other NGOCC financial obligations. Please continue" she said.
And in responding to the visiting team, LUMUWO Chairperson Taslima Kuluneta, led her team in sharing the various challenges her organisation faced. She mentioned how it had been difficult to access funds largely because of challenges around proposal writing and very few people who were willing to work as volunteers.
She said "we operate on a voluntary basis because of funding challenges. As you know, most people want to be given ka something (money) for whatever they do. So, we do write proposals but we are limited because we rely on other people to help us. We need your help to ensure we improve in this area."
She further thanked the visiting team for taking time to visit them and appreciate their challenges and the invaluable advice given in many areas of running their organisation. They were grateful for the growth their organization has undergone over the years.
"We are grateful you came and we really appreciate. Since joining NGOCC somewhere around 1998, we have grown from being timid to being assertive. We used to feel uncomfortable because of how we dress as Muslim women but now, we feel comfortable and be part of the larger women's movement. We feel happy you found time to come and understand our operations and we will ensure we work on areas you have pointed out for improvement."
LUMWO looks into issues affecting Muslim women, widows, orphans and vulnerable children in our society. It was formed in 1994 and registered in 2004 with the Registrar of society. It has been a Member of NGOCC since 1998
---
Trending Now
You may also like