Death of UNZA Student Sad- Sara H. Longwe
Posted On October 7, 2018
---
Hits: 36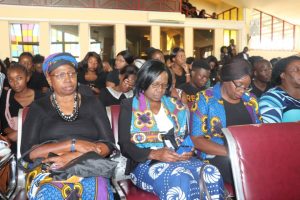 By Staff Reporter
NON-Governmental Gender Organisations Coordinating Council board chairperson Sara Longwe has described the death of a University of Zambia student Verspers Shimuzhila, who died in Thursday night's riot at the institution as sad.
Longwe, who first visited the injured student Evelyn Choongo at the University Teaching Hospital (UTH) in Lusaka yesterday, also spent some time at the house of mourning where she met Shimuzhila's mother.
"I was accompanied by YWCA Chairperson Lucy Masiye, NGOCC CBO Board member (Charity) and a local UNICEF staff member. We first visited the injured student at UTH in H10 Ward. She looked better than I anticipated but both legs are broken," Longwe said.
"We then visited the funeral house in PHI area, where we met the mother of the deceased – a very sad affair. The family is still awaiting the arrival of her father, who is stranded in Nairobi because flights are full. There will be a memorial service on Monday morning at Unza SDA Church. May her soul rest in eternal peace."
The students rioted on Thursday night following the government's failure to pay them their meal allowances.
Police officers moved in to quell the protest but ended up following the students at their hostels while firing teargas.
Teargas is what suffocated Shimuzhila, who was in her room, according to eye witnesses.
Choongo, the second year student who has suffered broken legs, jumped from the third floor of a hostel to her safety after police fired teargas.
---
You may also like